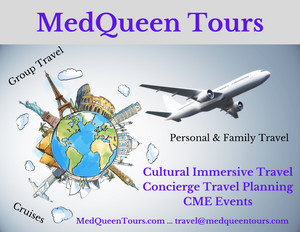 MedQueen Tours [Deposit]
Regular price $500.00 Sale
Travel adventures with MedQueen Tours & Travel. Travel/tours to various countries while exploring culture & history, connecting with the local community, and pampering yourself for stress management & self-care.
Deposit to hold a space on your designated MedQueen Tour. Most tours will be 7-8 days in length [select tours 11-14 days]; 4 star or above. Group size availability on each tour 10-20 persons. All current group tours are listed on medqueentours.com
Activity level of 3 and above. Travelers must be able to walk long distances in a timely manner, manage stairs, on & off trains, and carry their own luggage.
Estimated cost of trips $5000-$7500.
10-14 day Bucket List: estimated $7000-$10K
[If you choose double occupancy you are responsible for obtaining a roommate and notifying us ASAP.] Airfare to and from destination not included.
 ** Deposit varies from $500-825 depending on the value of the tour
** Deposits are refundable for 30 days after payment; after 30 days the deposit is nonrefundable. Cancellation must be received in writing.
Terms & Conditions
I authorize MedQueen LLC to charge the credit card or bank account indicated on this invoice for the noted amount on today's date. This payment is for the services described on the invoice. I understand that returns, refunds, and cancellations are at the discretion of MedQueen LLC. I certify that I am an authorized user of this credit card and that I will not dispute the payment with my credit card company, so long as the transaction corresponds to the terms indicated on this invoice.